In this post we want to talk about a word that, over the last few years, has become one of the trendiest in the entire fashion industry (and in many others): sustainability.
Why talk (yet again) about sustainability?
We have had this topic on the back of our minds for quite a long time, both as investors (we are seeing more and more recently-founded DTC fashion brands making sustainability their main mission), and as consumers (seeing the sustainability badge on an ever-increasing number of apparel items).
A few months ago, we read an article on the Financial Times titled "Does sustainable fashion exist?", by Lauren Idvink[1], which touches on very interesting – and yet depressing – topics related to sustainability.
Since then, we have tried to understand what sustainability is and if genuinely sustainable products really exist or whether sustainability is still nothing but a so far successful marketing technique.
The ubiquity of sustainability – Why?
The FT journalist makes the point very clear in her article's opening: "[Sustainability has become] so ubiquitous in PR and marketing, so liberally applied to any brand that uses organic cotton or manufactures its goods locally, that its fundamental definition has become obscured".
A similar definition of the status quo is given by Yvon Chouinard, the founder of Patagonia, in his book "Let My People Go Surfing": "The word "sustainable" is another of those words – like "gourmet", and "adventure" – that have been so overused and misused to become meaningless… Sustainable development is far from sustainable".
According to The Sustainability Index 2021, published by The Business of Fashion (BoF) in March 2021, the word "sustainability" is, quite literally, "on fashion executives' lips more than ever before", as the graph below clearly shows: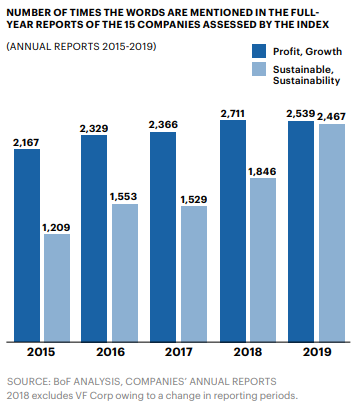 According to the BoF, the popularity of sustainability in fashion is the result of a multitude of forces:
New generation of consumers: value-based messaging is an increasingly powerful marketing tool in a fashion brand's arsenal in order to engage with and retain a new generation of consumers. 1/3 of US Millennial and Gen-Z consumers say they'll spend more on products that are less harmful to the environment. In Europe, 2/3 of Millennials indicate they would stop or significantly reduce their spend on brands that mistreat employees or suppliers[2].
Companies' culture is changing: companies (i.e. employers) need to face internal changing forces, as employees increasingly demand a corporate culture and business practices that reflect progressive values.
Investors' "hunger" for ESG opportunities: sustainable investing has gone mainstream, fuelling a boom in environmental, social and governance funds. This rise in ethical investing and green financing has been accompanied by calls for greater accountability and more corporate disclosure of social practices and climate-related risks[3].
Governments' bold commitments: national governments and international organisations are under pressure to bring in policies, incentives and regulations that will help countries meet goals to limit climate change.
As a result, fashion companies are responding with high-profile sustainability commitments and marketing messages focused on eco-collections and social justice.
As a consequence, a legitimate question arises: do these actions actually live up to their words?
What is the real status quo of sustainability in fashion?
A report published by the Global Fashion Agenda and BCG in 2019, "Pulse of the Fashion Industry"[4], states that "not only fashion is not sustainable, it is becoming less so every moment". Indeed, the sector has been growing so much over the last decades that its impact on the planet is actually worsening year over year.
According to the report, in 2019 improvements in terms of reduction of carbon emission and of ensuring living wages for workers grew at a slower pace (approx. 30%) than in 2018.
By the end of 2019, about 40% of the industry had not yet reached beyond what BCG calls "Phase One" of the Pulse Curve (which is made out of four phases, phase one consisting in building the foundations of sustainable operations and goals).
Truth be told, Covid-19 has accelerated the course towards sustainability, but the pace of the implementation of sustainable solutions is not yet moving fast enough to counterbalance the negative environmental and social impacts of the fashion industry.
Yvon Chouinard says that most of the companies are still "applying short-term business principles to a natural system that can operate only in the long term… No businessman in his right mind would intentionally cripple his accounting department without thought of the consequences to the rest of the company. Yet that's exactly what's being done to the environment".
Even though lately a growing number of newly-established fashion brands have made of sustainability their raisone d'etre, following suit of first movers such as Patagonia, Eileen Fisher or Ecoalf, a relevant number of brands (especially, more traditional and established ones) are still trying to understand what sustainability is and how to tackle it.
Why is the fashion industry still far from reaching real sustainability?
In our opinion, there exist two main macro-factors that have been (and still are) slowing down the path to sustainability of the fashion industry:
Financial factors: up until a few of years ago, fast fashion was the predominant name of the game. Companies' objective was that to launch the highest number of items in the shortest period of time, so that consumers' desire to constantly buy and show off new clothes would be fulfilled. That has led companies to push the supply chain to the limit, sacrificing nearshoring and (oftentimes) quality in favour of speed.
Policy factors: despite the efforts to reduce global warming in recent years, there is still a lack of standardization and regulation of sustainability in fashion. Even in western countries, there is no such legal definition of "sustainable" garments, conversely to what happens in the food sector, or in the energy sector, where clear rules are set in order to qualify food and energy as organic. That leaves fashion brands with almost complete freedom on how to use the "sustainability" word without constraints.
While financial factors are now playing in favour of reaching a higher degree of sustainability, thanks to consumers' increasing demand for sustainable clothing, standardization of rules defining sustainability is still far from being achieved.
Evidence of this is the myriad definitions one finds on Google by looking up "What is sustainability in fashion", or even by the variety of titles of articles appearing in the Sustainability section of a sector-focused online magazine such as Vogue Business.
There, one will find titles such as[5]: "Can fashion be climate positive? Burberry commits to finding out"; "Rothy's, Chloé and The North Face are looking outside to save fashion, for expertise and guidance in tackling their biggest sustainability goals" or "Rubber shoes are trending. Sustainability experts have doubts".
For a more thorough analysis on the attempts of regulation of sustainability in the fashion industry, read this article on Vogue Business.
What is being done in order to tackle these issues?
While it will take some time for governments and public agencies to reach consensus on the guidelines of sustainability in fashion, a few private players have already started working on, and publishing, frameworks and indexes which aim to define the main pillars of sustainability in fashion.
That is the case of, among others, sector-focused magazines, which appear to be leveraging their opinion-leaders' position in the market to set general standards.
Perhaps the most relevant sustainability index that has been published so far is "The Sustainability Gap", by the BoF (March of 2021)[6], which benchmarks 15 of the industry's largest (and listed) companies against ambitious environmental and social goals.
Below is a table summarizing the BoF Sustainability Index, which examines publicly-available data to find out how those 15 companies are performing across six categories such as transparency, emissions, water & chemicals, materials, workers' rights and waste: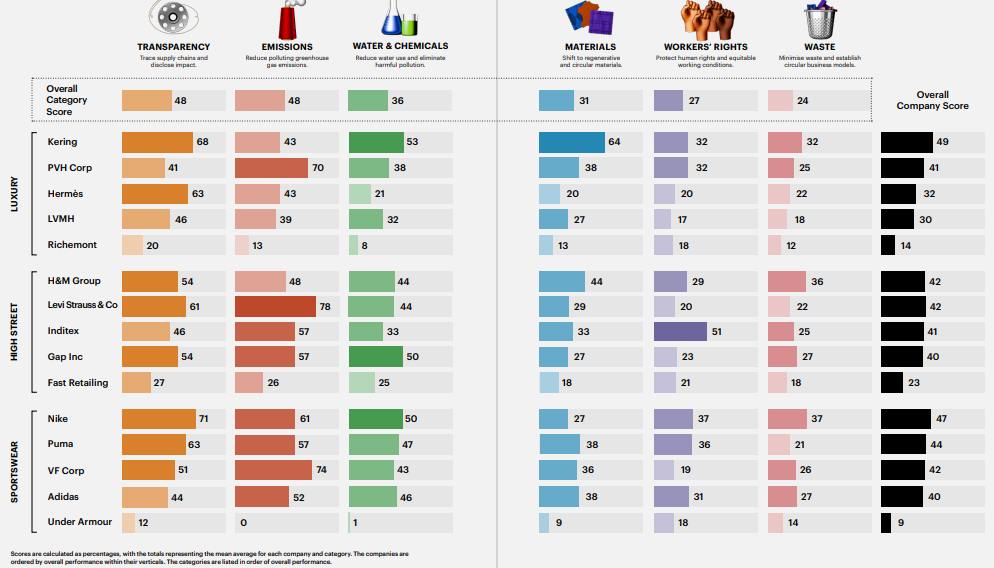 Besides the findings of the study (which are quite worrying, considering we are talking about leading companies in fashion), the relevant point here is that the index is fairly easy to navigate and the mechanics behind it appear to be thorough.
The index's methodology is the following[7]:
Analysis of a mix of qualitative and quantitative, publicly-available data
6 categories, each of which is made up of between 1 and 4 subcategories; in each category, the company's progress is assessed towards 16 time-bound targets
Companies receive a point whenever they provide sufficient public evidence to generate a "yes" answer to a given metric,
The index has been validated with a committee of 12 sector-experts
BoF's Sustainability Index represents a great example of how a standardized framework measuring sustainability in fashion could work.
The challenge now is to transform such a framework into a scalable model, which could work even for companies with little or no public-information available.
How are tech-based solutions helping to solve these issues?
BoF is not the only company trying to establish standardized guidelines on sustainability.
B Corp, a non-profit organization based out of the US, is probably one of the most successful projects in the context of impact monitoring. While it does not focus on the fashion industry in particular, it provides a certification model for the company's entire social and environmental performance.
Based on a series of questions (which take approx. 2-3 hours to be answered), the B Impact Assessment (offered for free) evaluates how a company's operations and business model impact its workers, community, environment, and customers, and how it compares with other companies. Additionally, customized improvement plans can be designed on the basis of best practice guidelines.
More than four thousand companies across more than 70 countries are using the B Impact Assessment, including Patagonia, Eileen Fisher, Allbirds, Ben & Jerry's or Danone.
A similar platform, but only focused the fashion industry, is about to be launched by Bcome, a company based out of Spain, which was originally a consulting company in the space of sustainability in fashion.
According to publicly-available data, the tool will be able to track, evaluate and interpret the environmental and social impacts of a garment. We do not know yet how the tool will actually work, but if this will allow brands to monitor their suppliers, and consumers to monitor brands they buy from, in a semi- or fully-automated and trustable manner, the effects for fashion industry might be ground-breaking.
Of course, Bcome is not the only player trying to standardize impact in fashion, and several start-ups are working with the aim of breaking through the space with solutions based on big data, IoT and blockchain.
Innovation across the fashion supply chain does not come only from indexes and metrics. Other types of tech-based tools may have an equally or even-greater impact on sustainability; great examples are:
AI technology that lets consumers better understand clothes' size and fit; this would reduce items' returns, and thus, environmental impact caused by transportation.
AI solutions that predict trends and demand, so brands are better able to plan future designs, production and prices; these would help brands avoid over-production, with clear benefits for the environment and for a brand's economics.
Marketplaces on which to buy and sell second-hand items, even if mono-brand or company-sponsored (e.g. Patagonia).
Marketplaces allowing brands, e-commerce and people to rent garments. This type of marketplaces, together with second-hand marketplaces, should extend the items' lifespan and thus reduce waste.
We are confident that, in the months to come, we are going to witness the launch of other innovative solutions, which will make it easier for companies to track the sustainability of apparel's supply chain and work towards SDG and climate-change related targets.
---
[1] Financial Times, Weekend Edition, Saturday 15th of November 2020
[2] "2020 Global Consumer Sentiment Survey: A tale of two segments", published by McKinsey in February 2020
[3] https://www.businessoffashion.com/articles/sustainability/fashion-goes-green-to-raise-capital
[4] Pulse of the Fashion Industry 2019
[5] https://www.voguebusiness.com/sustainability
[6] https://www.businessoffashion.com/reports/sustainability/measuring-fashions-sustainability-gap-download-the-report-now
[7] https://pages.businessoffashion.com/sustainability-index-metrics-and-guidelines/?utm_source=onsite_marketing&utm_medium=article&utm_campaign=susindex_22032021&utm_content=promo_unit